Pumpkins play an integral part of celebrating fall holidays. Artfully carved jack-o'-lanterns decorate our doorsteps, while whole pumpkins add a festive air to tabletops and other spots around our homes. Once Halloween has passed and Thanksgiving gives way to winter holidays, pumpkins often end up in the trash. But, instead of throwing them out, consider a number of ways you can reuse them. Here's how to give new life — even if only for a little while — to carved and whole pumpkins both indoors and outside.
By Noelle Johnson, Houzz Contributor, Horticulturist, freelance writer and Certified Arborist
Carved jack-o'-lanterns as well as whole pumpkins can be used out in the garden and around the house once Halloween is over.

1. Decorate Outdoor Containers

Add distinctive seasonal flair to your containers by adding whole, uncarved pumpkins. Their vibrant skin will enliven outdoor spaces with color, whether used by themselves or nestled within flowering annuals and perennials.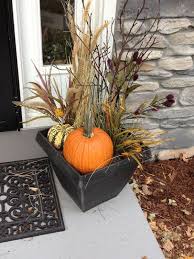 2. Make a Bird Feeder

Cut your pumpkin in half, and fill with birdseed. Add some twigs for the birds to perch on and you'll soon have feathered friends flocking for a snack. If there are still pumpkin seeds left, the birds will enjoy them too.

Smaller pumpkins also can be used as bird feeders. Clean out their insides, making a hole for the birds on the side. Fill the pumpkin with birdseed, and hang it from a nearby tree where you can observe.
3. Turn It Into a Planter

Create a natural container using your pumpkin. Be sure to remove any seeds and stringy bits, fill with potting soil and add a favorite succulent or flowering plant. Use your planter to decorate a tabletop or porch for a few days before planting the pumpkin in the ground — along with the plant inside — where the pumpkin will naturally disintegrate, enriching the soil.
4. Display in the Garden

Pumpkins' distinct color and shape add a decorative autumn element to the landscape — especially when used in high-profile areas near a driveway or front entry. These should naturally disintegrate into the soil, if you want them to, but it's best if they are best placed in an out-of-the-way spot for this. You could always dig a shallow hole to rest the pumpkin in.
5. Add To the Compost Pile

Not surprisingly, pumpkins are a great source of nutrients for compost. Cut up pumpkins into smaller sections to allow them to break down more quickly. Come spring, the pumpkin compost will add new life to your garden.

6. Feed the Deer

Those who grow pumpkins know that deer love to eat pumpkins. Provide them with a special fall treat by cutting your pumpkin into smaller pieces and scattering in an area, away from your garden, where they will enjoy eating them. Other furry visitors will also enjoy snacking on any leftovers.
7. Transform Into Candle Holders

All you need is a mini pumpkin and a tea light candle. Make a hole at the top of the pumpkin, slightly larger than the candle, and clean out the insides. The hole should be just deep enough for the candle to reach the top of the pumpkin. Insert the candle into the pumpkin, and light for festive decoration or a dinner for two.


8. Use as Serving Dishes

The shape of pumpkins make them a fun choice for a unique serving dish for the fall table. Smaller pumpkins make a good vessel for dips.

9. Make Puree

Finally, no list of what to do with pumpkins is complete without talking about using them for delicious desserts like pumpkin pie and bread. Although pureed pumpkin is available in a can, it is easy to make your own, which you can use right away or freeze for later use.Don't have a compost bin? Simply cut up your pumpkin and bury it where nearby plants will enjoy the phosphorus and other nutrients it will add to the soil.