The following smart home devices were favorites of people in 2018 for doing what technology does best, making people's lives life easier. Do you have any of these devices? Do you love them or regret purchasing them? Let us know in the comments section below!
Smart Speakers
Give a voice command and like a genie, smart speakers will make it happen!
https://www.pinterest.com/pin/189221621819684588/
Smart Cameras
Smart cameras allow your to monitor what's happening in your home while you're away. They are especially popular with pet owners so that they can keep an eye on their pets throughout the day. The two-way voice audio on the cameras will even allow people to speak to their pets.
https://www.pinterest.com/pin/250512797999584516/
Smart Thermostats
Feeling too hot or cold but don't feel like getting up to adjust the thermostat? No problem, just voice command your requested temperature and it will adjust for you! Some devices also allow you to adjust the temperature by using your phone.
https://www.pinterest.com/pin/99431104263421929/
Smart Lights
Feeling tired and ready to fall asleep but are worried that if you get up to turn off the lights you won't be tired anymore? Clap on clap off is a concept of the past. Simply voice command for your lights to turn off and you'll be on your way to dreamland.
https://www.pinterest.com/pin/90072061283367200/
Smart Locks
Always loosing your keys? No problem. Smart locks allow you simply input a code to get into your home. Just don't loose your phone!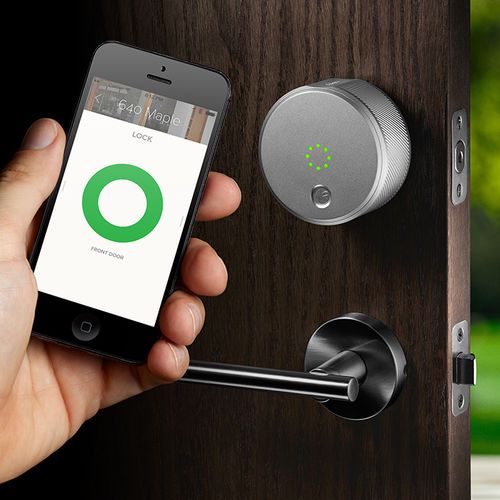 https://www.pinterest.com/pin/92886811042134902/
Smart Doorbells
Who's at the door? Well, with the built in camera, you check to see who it is from your phone before getting up to open the door for your guest.
https://www.pinterest.com/pin/230668812429176692/