A well-designed work area can improve your mental and physical health. Here's how to create your best office space.
by Melissa Dittmann Tracey
Could an inviting workspace make you feel better and work smarter? Jessica Shaw, interior design director of Turett Collaborative, believes it can. She offers steps to practice "design therapy" for your office space, factoring in colors, layout, lighting, and more.
Shaw draws from "neuro-architecture," which explores how art, color, lighting, and design in your office space can affect a person's mood, productivity, and health.
She offers the following tips for creating an office that boosts mental and physical health, whether it's your work-from-home area or in-person workplace.
1. Use color smartly.
Color can potentially affect a person's mood, emotions, concentration, and even physical health, according to a body of science called color psychology. Draw from some of these insights to outfit your workspace.
When to use brighter hues: For example, bold, bright colors like yellow have been linked to boosting positive thoughts and sparking creativity. Red can stimulate and energize. For detail-oriented work, you may benefit by adding red accessories to keep you focused, Shaw says.
©Turett Collaborative
When to use softer colors: Lighter shades of blue and green can bring a sense of calmness to a space. These colors tend to work best in lounge spaces and break areas, Shaw says.

When to use white: Use white sparingly in furnishings and accent pieces. Too much white can make a space feel cold and uninviting. Use white more as an accent color or within a more monochromatic color scheme, Shaw recommends. She suggests reserving white for more serious spaces in a workplace, such as conference or meeting rooms.
©Turett Collaborative
A balanced composition of white and color brings visual harmony to the Turett Collaborative's Civic Hall lounge area.
Use the color wheel for inspiration for the color of your workspace, Shaw suggests.
Choose analogous colors: Groups of three colors beside one another on the color wheel (e.g. blue, blue-green, and green)—to create harmony in your office.

Reserve complimentary colors: Opposite hues on the color wheel—for a bolder look (e.g. yellow and purple or orange and blue).

Consider triadic colors: Three colors equally spaced on the color wheel—for a more energetic, personality-filled space (e.g. red, blue, and yellow).

Use color with intention: Pops of red energize this office space.
©Turett Collaborative
Also, Shaw recommends strategically using different hues, tints, tones, and shades to draw attention to certain objects within the workspace.

©Turett Collaborative
An energizing palette of triadic colors adds an element of contrast to the Turett Collaborative Civic Hall dining area.
2. Don't play it too safe.
You want your workspace to have a sense of harmony, but you also don't want it to bore you, your agents, or staff. When using interior elements that are too similar, your space can appear dull. But you want a workspace that will visually stimulate. To do that, bring together pieces that juxtapose one another in color, form, or aesthetic to liven up the workspace, Shaw says.
"To break up the rigidity of a grid-based layout often seen in traditional offices, try incorporating organic, soft shapes to add a layer of dimension, dynamism, and visual complexity," Shaw says. "Balancing masculine and feminine pieces is a great example of creating tension to achieve a cohesive, yet elevated look."
©Turett Collaborative
Interior designer Jessica Shaw creates a bold, yet balanced atmosphere with the use of complementary reds and greens in her personal home office.
3. Go abstract with your art.
Abstract artwork could make you feel more creative and spur more innovation in the workplace. "Art is an incredibly influential aspect in impacting moods and the feel of an environment," Shaw says. "In a sense, it can be a reflection and extension of your company or individual brand."
©Turett Collaborative
The colorful artwork on the wall of Turett Collaborative's Civic Hall aim to project visual complexity and stimulation. Large abstract prints can command attention and make a statement.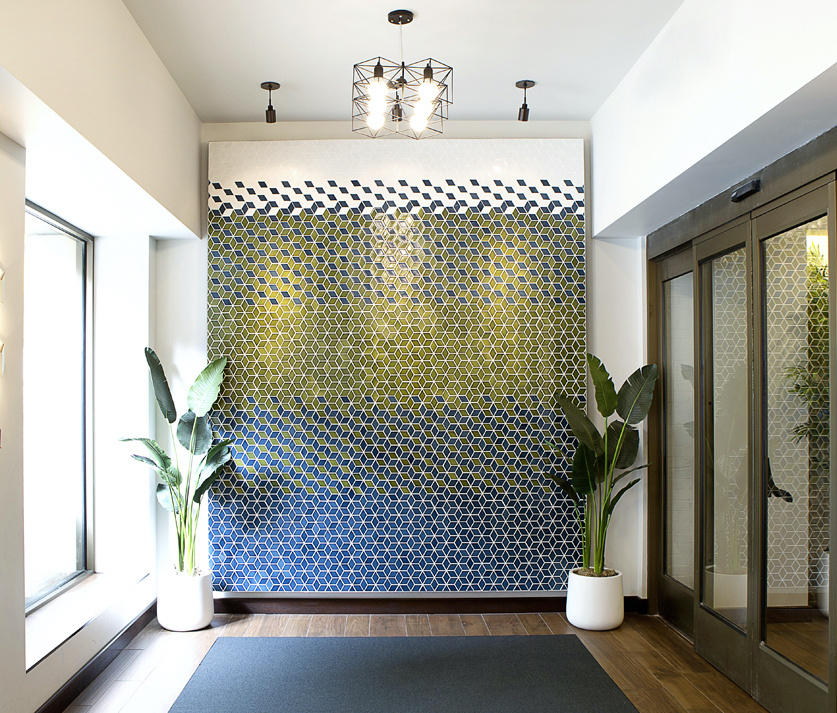 ©Turett Collaborative
A gradient tile art piece of geometric patterns composed of sage greens and blues adds texture to the space.
4. Maximize the light.
Factor in sunlight when determining the optimal layout for the office. Brighter work environments with natural lighting can help make workers feel more productive, according to a 2018 study conducted by Cornell University Professor Alan Hedge. Natural light also can help reduce eyestrain, drowsiness, and headaches, and even elevate a person's mood.
Try to locate desks near windows to gain the benefits of natural light, Shaw says.
©Turett Collaborative
5. Section off with the flooring.
The flooring can greatly enhance the overall look of a room. "Carpeting provides a softer feel to a space while hardwood floors create a strong, polished look," Shaw says.
In the workplace particularly, different flooring can help section off spaces in the absence of walls. Use a variety of flooring as an alternative to physical dividers like cubicles. It can keep the space feeling more open, too.
"Lines also encourage movement; our eyes are trained to follow lines in the direction they flow," Shaw says. "For instance, vertical lines promote movement and mobility, whereas horizontal lines create a grounded, secure feeling."
Try vertical running wood or carpeting along hallways to bring about movement and then use horizontal lines in spaces for relaxation and lounging, Shaw recommends.
©Turett Collaborative
Opposing carpet patterns can liven up a monochromatic scheme for a hallway while also creating the perception of two work zones.
6. Minimize visual and noise distractions.
The more objects and items on display on a desk, the more visual and informational processing a person has to do. That can make it difficult to concentrate on work.
Visual clutter hampers organization and productivity. Noisy offices also can be a detriment to your mental health. This also applies to those who work from home, who may face noisy pets or neighborhood construction.
Consider furniture and design elements that can absorb sounds, such as carpeting, acoustic wall paneling, or drapery.
©Turett Collaborative
Pullout drawers allow for discrete organization, keeping the office of this apartment clean and uncluttered. Carpeting provides sound absorption.
7. Follow the principles of proxemics.
Let the law of proxemics be your guide to designing your office space. It states that various distances can serve different forms of interaction.
For example, a distance of 1.5 feet to 4 feet best facilitates friendly, casual conversation, while distances less than 1.5 feet promote a stronger connection between individuals.
"It is important to design a work environment that allows for these varying degrees of physical separation to help promote both individual work and collaborative efforts," Shaw says. "Alleviating stress and fostering a safe environment contribute to employees' overall well-being and comfort."
This may be even more important as more people prepare to return to the workspace after working from home during the pandemic. Open hallways and additional spacing between workstations reduce visual congestion and naturally create social distancing and separation for employees who prefer that, Shaw says.
Turett Collaborative's Civic Hall design layout includes both up-close and distanced working arrangements to suit the needs and comfort levels of all workers.
©Turett Collaborative
Melissa Dittmann Tracey is a contributing editor for REALTOR® Magazine.