Paint is the ultimate material for updating your home quickly and inexpensively. While solid-colored walls are one way to refresh a room, these wall painting ideas make a statement with bold patterns, contrasting colors, and interesting textures. With a few simple techniques, you can turn an ordinary wall into a spectacular work of art.
By Jessica Bennett
Wall Painting Prep
Before trying one of these DIY paint projects, brush up on your wall-painting technique to ensure you get the best finish. Always clean your walls, lay down drop cloths, and cover baseboards, trim, and the ceiling with painters tape before you begin. Then grab your brushes, rollers, and a few cans of paint.
Easy Patterned Wall
This freehand wall painting idea is easier than it looks. Start by sketching out a pattern of dashes, dots, and zigzags, or find one online to re-create. Dip a 1-inch angle brush into a small amount of paint and begin applying the pattern, working from an upper corner across and down the wall. A slightly imperfect pattern is the goal, so don't worry about uneven spacing or varying brushstrokes.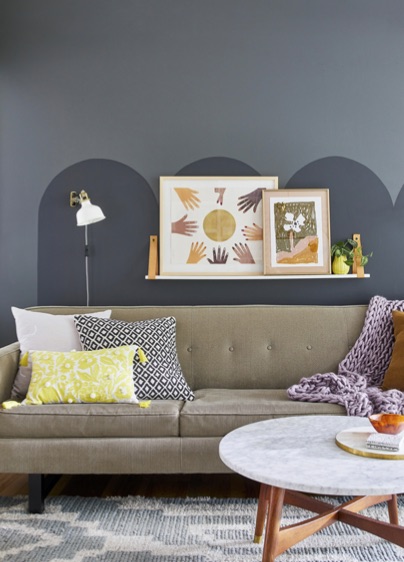 Painted Arch Idea
to create a sense of depth and architectural character. Go with a single arch shape or string a few together for a scalloped design. To achieve a perfectly rounded top, secure a piece of string to the wall and pull it taut as you trace a semi-circular shape with a pencil. Extend the lines straight down the wall and mark off with painters tape. Use a small brush around the edges and fill in the middle with a roller.
Buffalo Check Wall Painting Idea
For this DIY paint technique, you'll need three coordinating colors. To form a buffalo check pattern, use a ruler and level to mark vertical and horizontal lines spaced 4 inches apart. Then outline the stripes with painters tape and paint horizontal lines in your lightest color. Use your medium-tone color to paint vertical lines, then fill in the squares where vertical and horizontal lines intersect with the darkest paint color.
Geometric Mountain Design
Dress up the walls of a kid's bedroom with this easy geometric wall painting idea. Form mountain-like triangles by marking off lines with painters tape and filling in with color. Choose bright, high-energy hues (such as orange and yellow) that will stand out well against your base wall color.
Two-Tone Painted Wall
Create the illusion of architectural details with this wall painting idea. Two-tone walls add dimension and contrast to a room, and this technique is much easier to achieve than installing molding or trim. Simply mark your paint line using painters tape and a level, and paint the area below to achieve a color-blocked look.
DIY Mounted Wall Treatment
This wall painting idea uses a wool pad to create a marbleized look with paint. Start with a few different colors of paint in several shades ranging from dark to light. Paint heavy diagonal lines in alternating colors across the wall. Prime the wool pad with a small amount of each color, then tap the pad along the diagonal lines to blend the colors together. To create the look of veining, dip a feather in equal parts white paint and water and drag it across the wall.
Sunset-Inspired Wall Paint Idea
Blend shades of coral and blue for this wall painting idea inspired by a sunset. First, gather six paint colorsthat are similar enough in tone and saturation to blend together and divide the wall into six horizontal bands. Paint the darkest color on the lowest part of the wall and use a brush to feather out the top while the paint is still wet. Working quickly, paint the band above in your next shade and use long, sweeping strokes to blend the colors together. Repeat with the remaining colors to form a layered look.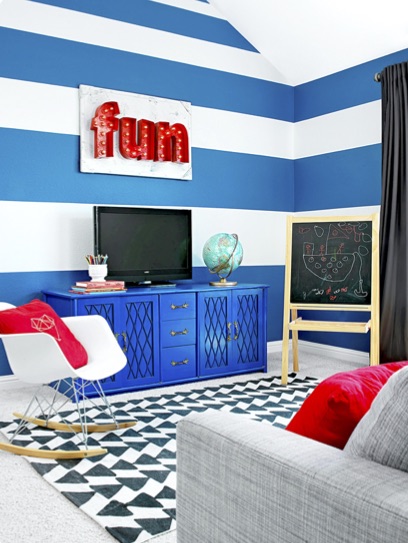 Painted Wall Stripes
This wall painting idea works well in kids' bedrooms or playrooms. To paint a striped wall, use painters tape and a level to mark off equally spaced horizontal lines (be sure to apply the tape inside the edges of the traced lines). Paint inside the taped sections and remove the tape when dry. If necessary, touch up any uneven spots with a small paintbrush.
DIY Ombre Wall
Paint your walls with a gorgeous gradient technique in just a few steps. Start with paint in dark, medium, and light colors. To create in-between shades, mix equal parts of your dark and medium paint; repeat with your light and medium colors. Paint your darkest color at the bottom and the medium shade above, leaving a gap in between. While the paint is still wet, brush medium-dark paint in the space between, using vertical strokes to blend the colors together. Moving up the wall, repeat this with your lighter colors to achieve an ombre effect.
By Jessica Bennett, Better Home & Gardens