The Construction Conundrum: Buyers frustrated with low inventory are turning to Plan B: building new. Yet, they'll face difficulty there, too, as land and labor shortages lead to long delays and supply chain struggles lingering. Below are some construction options to consider.
©Rentfrow Design/The Plan Collection
By Barbara Ballinger
As the pandemic housing boom continues, many buyers are still losing out on homes as they go up against higher bids. Some are now seeking out land and new construction to get the home they want.
But this strategy has its own set of peccadillos, including a shortage of buildable sites, which associate real estate broker Kim Cantine, with Halter Associates Realty in Bearsville, N.Y., says is not brand-new. "My area is experiencing its fifth year of low land inventory," she says.
Land prices have also climbed and are experiencing bidding wars, Cantine says. To cope, some home buyers look to the popular 1980s alternative of tearing down a house to build a new one, says Ben Brittingham, vice president of marketing and sales with MN Custom Homes in the Seattle area.
©MN Custom Homes
However, that's not a solution either since builders, architects, and contractors are swamped with requests, and building materials and appliances are priced higher and are frequently out of stock. Those performing the work can charge more or take only jobs they prefer.
What's a frustrated buyer to do? Real estate agents and brokers can enable them to explore all options and find a big dose of patience.
Buy a Stock Building Plan
One way to shorten the new construction process and pare costs is to go with an existing house plan, a process like buying off the shelf rather than developing a custom plan. Tim Bakke, director of publishing at The Plan Collection, a 30-year-old company that now has more than 22,000 plans in its inventory and continues to design new ones, says a predesigned plan can shave a few months off the process and cut the design cost by at least $7,000 to $8,000, depending on the complexity and cost of labor.
Though the design won't be custom, choices are sufficiently varied in number of bedrooms and bathrooms, style of layout, number of levels, amount of outdoor space, and many other features. The exteriors are also diverse, from the popular modern farmhouse look to more traditional Tudors and Colonials. One drawback, Bakke says, is that substantial changes, such as structural walls being moved, can't be made without incurring added costs. But if a buyer thinks they may want more space, Bakke suggests starting with a larger footprint to have square footage to manipulate.
'
©The Plan Collection
Build Custom
Hiring an architect or builder to design a house from the ground up is a major undertaking that requires making countless decisions, such as the size of the kitchen, height of ceilings and windows, number of bedrooms and bathrooms, type of doorknob, and even width of hallways. The advantage of this route is it gives homeowners more of what they want for their budget. "They can put solar panels on the roof to lower costs and make it passive and environmentally friendly, for example," says Los Angeles–based attorney Robin Finch, a real estate partner at Greenberg Glusker.
The downside to building custom is that the process takes typically three to six months for the design, time to secure permits and approvals, and, depending on the size of the project, 12 to 16 months for building under normal non-pandemic conditions, says architect Victor Body-Lawson of Body Lawson Associates in New York City. Costs are also generally higher: The architect often charges a design fee (4% to 10% of construction costs) and a 10% contingency fee. On top of this, materials and appliances have jumped by as much as 20% per month in the current frenzied climate, he says.
Go With a Spec Home
Buyers have another possibility—selecting a house that a builder is constructing or has finished as a stand-alone residence or perhaps as part of a development. Depending on when clients buy affects how many choices they get to make, says Brittingham. If the house is finished, they buy what the builder has selected. But if framing has just begun, they may be able to make choices in such categories as tiles, countertops, vanities, flooring, cabinets, lighting, and more. Some builders offer choices at different price levels, such as laminate at a certain cost or pricier marble at a higher cost.
One distinct advantage is that the price point may be 10% to 20% less than a custom home because of economies of scale—though this is not guaranteed due to COVID-19, says Brittingham, whose homes average $2 million to $6 million.
Think Prefab
Prefabricated home options have increased, with more companies building houses in a factory, says Sheri Koones, author of several books, including Prefabulous and Sustainable. Many of these companies are seeing great demand, including for houses to help house those experiencing homeless, she says.
Because of the building boom, the supply chain for this sector has been disrupted, too, says John Colucci of Westchester Modular Homes in Wingdale, N.Y. "We are not only paying top dollar for materials, but the lead times have created a slowdown. That being said, modular is still faster than stick building since we managed to keep our labor. We are all so busy, but some would-be customers are sitting on the sidelines," he says.
©Westchester Modular Homes
Factors Home Buyers Should Weigh Before Proceeding
How much will a house cost? Buyers must be realistic—they should budget 15% to 20% more than they expect the house to cost, especially as COVID-19 has increased costs of materials, appliances, and labor, Bakke says. When a mortgage is needed, Bakke says, it's wise to remind buyers to consider the rule of not spending more than 28% of their monthly gross income. Others think the percentage should be based on overall life goals, which is why consulting a financial planner is wise. New construction requires a construction or bridge loan that converts to a traditional mortgage when the house is completed.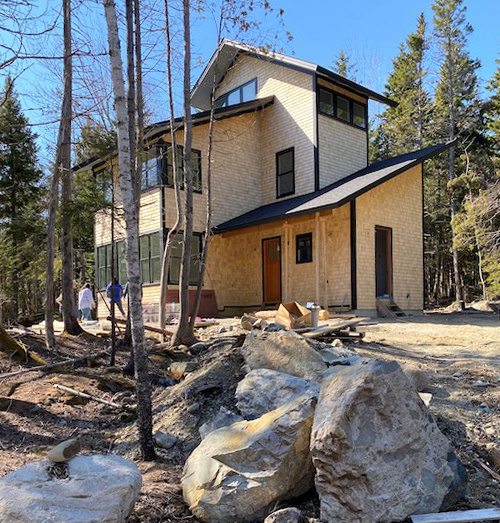 ©Duo Dickinson Architects
How much square footage is needed? Figuring out size can be tough in the abstract. Some 2,500-square-foot homes, for example, seem larger than others, which often depends on the amount of hallway space, height of ceilings, windows, and light. It's best for buyers to walk through existing homes to get an idea and list which rooms they want and dimensions. Architect and author Sarah Susanka started her "not-so-big house" movement decades ago to emphasize the importance of having every inch count and spaces do double duty, which may help cut costs.
Homeowners should also bear in mind that square footage is the single biggest driver in determining building costs, says Bakke. The cost varies widely in different arts of the country. According to 2019 U.S. Census Bureau data, the median price per square foot for a contractor-built single-family home was $114, but these days many cite higher prices of $300 to $400, and in certain cities like San Francisco and Boston they may rise to $600, says Madison, Conn.–based architect Duo Dickinson. Finishes also affect pricing.
How much detailing is included in a plan? After interviewing two or three architects or builders to design the house, home buyers should check references (like from a local American Institute of Architects list), licenses, insurance, and referrals and decide—or go with a design from a plan company. It's critical to read the plan to be sure everything is included and in the right place, including windows, electrical outlets, roofing trusses, stairs, doors, and plumbing. A bank may need detailed construction drawings and a site plan, according to Bakke. If a buyer doesn't understand how to read a plan, suggest they learn from sites such as The Basics: How to Read Architectural Plans.
Why is the site key? The spec house builder will have vetted the land choice, but a custom house requires a buyer find a suitable lot. Not all lots—even those that are the same size—meet that criterion. Some require trees to be removed, septic systems and power lines to be added, and soil to be tested, says Dickinson. Body-Lawson says the geological makeup should be studied because it may cost more to excavate a rocky or wetlands site, if allowed. Information about the area's broadband capability is important, particularly as many people work from home.
A professional on the team also needs to check town rules about land records to be certain there are no outstanding liens and to know the setback limits. These days, some information can be gleaned from aerial photographs and mapping systems that a building department usually has, says Dickinson.
To curtail costs, Body-Lawson recommends that homeowners try to buy undervalued land, which may mean a site farther from town or with fewer features on buyers' wish lists—such as a chance of forgoing mountain views. They should also avoid overbuilding for their area, since prices may not continue to rise.
Why secure multiple bids? For the actual design, the buyer should secure three bids that compare apples with apples. Bakke says any contractor or builder hired should have experience in the homeowner's area, so they understand the topography and local building codes. Sometimes, a bank may ask a builder to complete a review application to be sure the person is licensed and insured and has a history of successfully completing projects, Bakke says.
Take Time to Draft a Detailed Contract
With so many details to consider, and so many different work crews involved in the process—including subcontractors and landscapers—it's critical that a homeowner have contracts with all those involved, which a real estate attorney should review. Los Angeles–based attorney Robin Finch of Greenberg Glusker suggests bringing in an attorney early in the process, even before land is bought.
The contract should specify the amount of the down payment, how much to pay at specified time periods, how to handle change orders, the amount to hold back until everything on the punch list is completed satisfactorily, for what reasons a contract can be cancelled, and for how long a warranty guarantees work such as a house settling, says Ann O'Connell, an attorney and legal editor at Nolo, a legal publisher of books and software based in Berkeley, Calif.
At the same time, these tough COVID-19 times require flexibility, says architect Katy Flammia, design director of the Hudson, N.Y., office of New York City–based Spacesmith, an architecture and interior design firm. "We're finding with construction that it's almost impossible now to establish construction costs, which we used to keep the design within our client's budget. What our clients could buy a year ago is different than what it costs now, and we're seeing almost weekly price increases," she says. Furthermore, she cautions clients to be flexible. "They may want to have a list of alternates in materials and scope, and even construction method alternates such as prefab components," she says.
Some of the former ways that homeowners could protect themselves in their contract may no longer be included. Because of COVID-19 work delays, shutdowns, and price increases, it may be impossible to convince an architect and general contractor to agree to include financial penalties, known as liquidated or punitive damages, if someone gets sick and is off the job for a while or if prices rise higher than they expected, Finch says. So much is market driven, she adds. To resolve any potential problems on either side, it's best if mediation can be stipulated as a recourse rather than litigation, due to lawyer and court costs and time, says O'Connell.
©Shannon Greer - Spacesmith
What About Those Rising Lumber Prices?
Lumber prices—plywood, hardwood, and softwood—have soared across the board. In fact, costs are up 130% since the start of the COVID-19 pandemic more than a year ago, adding $30,000 to the price of a new home, according to the National Association of Home Builders.
Because of the prices, as well as significant shortages, many architects, builders, and home buyers are asking two key questions: How long will the surge continue and why did it happen in the first place? Tony Uphoff, president and CEO of Thomas, which provides analysis and tools that reflect the buying process, says his company data shows a steady surge in sourcing activity for lumber over the last year.
"The situation," he says, "has been long in the making. As a country, we have relied on Canadian forest lumber whose supply has diminished in recent years." Part of the problem is also due to tariffs going up, which resulted in further withering demand in the U.S. due to the increased prices. As a result, Canadian mills began to shut down locations to protect themselves against lost revenue, he says, adding, "This initial step was magnified as we entered the early stage of the pandemic. Then, with many working from home, they began to evaluate their living quarters. Some sought more space, which drove a spike in residential housing prices and new construction. And many already owning a home spent more time and took on more projects." The upshot, he explains, was "exacerbated demand on an already fragile lumber supply chain, which drove prices to an all-time high."
And there's more, he says. "The continued result is that some builders are pausing their work on new construction projects due to the high lumber prices. Other construction companies report that even at high prices, they are having difficulty sourcing supply through their established supply chains."
But some good news has been emerging for several weeks. Sawmills have increased output over the last year and another increase is expected, according to Alex Hickey in her "Morning Brew" report. Most recently, prices started to fall, though what will happen over the long term is anybody's guess. Homeowners and the professionals working on their homes are wise to keep an eye on prices and anticipate a possible seesaw effect, especially as COVID-19 numbers ramp back up.
3 Takeaways:
Material and labor shortages require longer wait times.

Prefab, spec, and pre-designed plans can help curtail long time frames.

Building codes and the property's topography should be thoroughly assessed to avoid setbacks.
Barbara Ballinger is a freelance writer and the author of several books on real estate, architecture, and remodeling, including The Kitchen Bible: Designing the Perfect Culinary Space (Images Publishing, 2014).