Open floor plans, smart homes, and outdoor areas are among the features in top demand for home shoppers this year. Home improvement website Fixr's recent study, Single-Family Home Construction and Remodeling Trends 2020, highlights the renovation and construction choices of buyers and homeowners in 2020. The results reveal some key areas of interest in home design.
By Yuka Kato
1. Open floor plan and two-story homes represent the most popular layouts.

While there has been a trend toward open floor plans for the past few years, 2020 is seeing an overwhelming consensus: 90% of experts selected an open floor plan as the most popular single-family layout. And it's likely to remain so in the future.
As quarantine periods and social distancing guidelines force families to spend more time together at home, large common areas command a premium value. Family rooms, dens, and open kitchen areas are acquiring new importance.
Another large percentage—77%—are favoring two-story houses in 2020. Compare this to the 29% who preferred single-story homes, or the 2% who favor split-level residences.
2. Smart homes rank first among design choices.
A growing trend in home design is the smart home, in which AI-based automation systems are seamlessly incorporated into electric circuits, heating/cooling systems, and entrances. Buyers this year are likely to appreciate homes in which smart thermostats, security cameras, and smart outlets are already installed.
3. Most homeowners make accessibility modifications to their home for future personal use.
Homeowners looking to age in place are exploring renovations that allow them to do so more easily. Homes with accessibility features likely will be more attractive to senior buyers as they look toward a future of independence, even as their physical abilities may decrease. This future need is a motivating factor behind such renovations (54%) than current personal use (11%) or current use for an aging relative (22%).
Buyers also are evaluating potential homes with accessibility modifications in mind. For instance, a front yard with space for a ramp will be more appealing than one with front steps leading directly to the street.
4. Energy efficient homes with tight building envelopes are among the top designs for green construction.

As Americans deal with furloughs, layoffs, and economic uncertainty, many are paying more attention to their energy bills. Energy efficient homes are suddenly much more attractive than conventional properties, and buyers who may not have ever considered green construction are making energy efficiency a priority.
Sixty-two percent of design experts say energy efficient homes are a top priority in 2020, according to Fixr's study, far outweighing other options like cool roofs or solar panels.
Experts say a tight building envelope—more than exterior or interior insulation—is the most common way to prevent energy seepage. A tight building envelope minimizes air transfer and can be an important feature of an energy efficient and environmentally friendly home. A home with both effective insulation and a tight building envelope will provide the best value to a buyer who desires lower energy bills and minimal heating requirements.
5. Family space and outdoor kitchens are trending in 2020.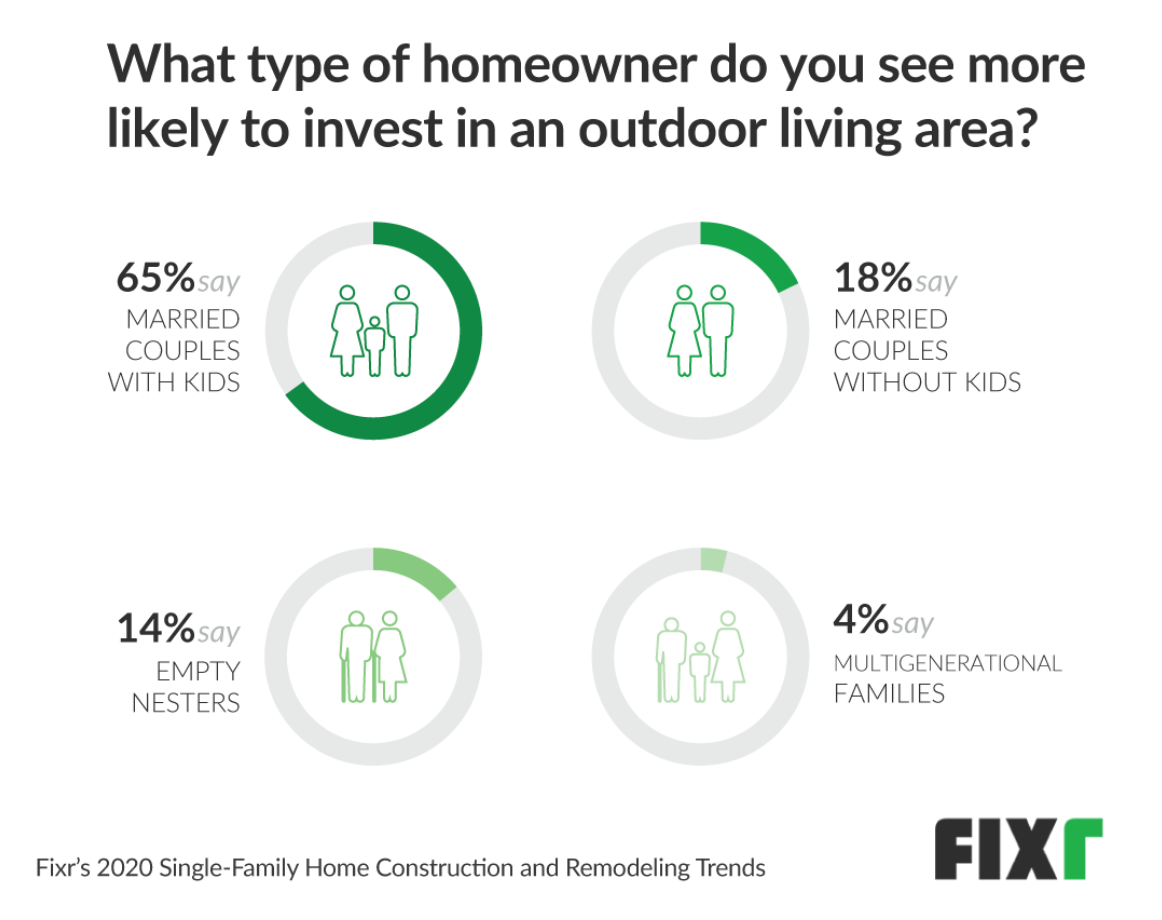 Outdoor playsets, firepits, and recreation-oriented yards are seeing an uptick in popularity, especially among married couples with kids.
This is a 2020 trend that has only been cemented by quarantine rules and social distancing regulations. As playgrounds, parks, and outdoor amusements became unavailable, families were forced to think in terms of what outdoor activities they could offer their children on their own property.
But outdoor living spaces aren't limited to playgrounds, decks, and patios. Fixr's research shows that outdoor kitchens were nearly twice as popular as a traditional patio. The outdoor kitchen is another trend that has been steadily increasing over the past few years, and it will be interesting to see how it continues to evolve in 2020 and 2021. New recommendations for socially distant entertaining, which may be better suited for meals and meetings with friends outside, may increase the number of homeowners wanting both outdoor kitchens and seating spaces.
6. Contemporary and modern will be the most common styles used in modular construction.
Modular and prefab construction continues to be widely used, and Millennials are most likely to build modular homes. As part of the Fixr survey, consumers were asked which style of prefab building would be most popular in 2020. A large majority (62%) indicated that a contemporary, modern style would be most commonly selected by home buyers. The runner-up choice was ranch-style—but it was only selected by 22% of respondents.
This year has been in many ways an uncharted year, full of unexpected surprises. But even as priorities have changed, many home buying and renovation trends have remained consistent.
ABOUT THE AUTHOR: Yuka Kato is an industry analyst at fixr.com, a leading home improvement website dedicated to providing the most accurate cost guides and advice. She writes about interesting trends and insights in the construction and remodeling industry.